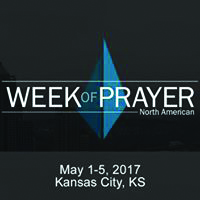 The annual North American Week of Prayer is quickly approaching again. Once again, it will be held, in the Kansas City area on May 1-5, 2017 at The Bible Chapel of Shawnee, 12230 West 75th Street, Shawnee, Kansas. Last year there were more than 10 official satellite sites around North America, and over 300 home sites where people gathered to pray! It has been a huge privilege to be a part of this, and to see what the Lord is doing among His people!
When I think of the annual Week of Prayer, three things come to mind:
It is God-Ordained: The Lord clearly directed us to convene for a week of prayer. It is not a ministry; it is a movement of God. A number of brothers labored in prayer for years concerning the possibility of hosting a week of prayer. I will never forget receiving a letter from a dear brother, asking that someone please call for a week of prayer so the people of God could come together and seek the Lord. Psalm 105:4 exhorts us "Seek the Lord, seek His power, seek His presence continually." This brother testified that he goes to his office, cries before the Lord, stains the wall with his tears as a testimony of his pleas to God. Through this and numerous other ways, the Lord clearly led to convening the week. It is the Lord's great idea. If this were anybody's idea besides our God's, I wouldn't want to be a part of it! So, thank the Lord for His clear guidance. The Lord encourages his people, "For this is God, Our God forever and ever; He will be our guide even to death" (Psalm 48:14).
It is God-Empowered: The Lord has met with us and helped us along the way. Many gave testimony, at the end of the week, that the Lord changed their lives and opened their eyes to what 'seeking the Lord' in prayer can look like. Most particularly in the first year, I was very tempted to try to take control of the week and manipulate it to make it something "successful." (How silly is that thought!) Each time this temptation would come, the Lord would remind me that the Week of Prayer belongs to Him and that He will meet every need concerning it. What a joy it has been to witness the Lord using this special week and spreading a burden for prayer among His people. At the end of each year, I find myself hungry for so much more, and yet, content in knowing the time that we had just 'seeking the Lord's face' was "PERFECT" (complete – all that it should be for that moment). We rest in the Lord and
trust Him as He leads us each step of the journey, knowing that He is guiding, empowering, and teaching each step of the way.
It is God-Directed: We fervently pray that the next North American Week of Prayer will belong 100% to the Lord, that He won't let us get our grubby hands on it, and that He, PLEASE, will overcome our shortcomings and won't let us mess it up! Last year I went to bed on Monday night so burdened and so hungry to seek the Lord. If the week would have ended there, I think I would have exploded. Tuesday and Wednesday were days of pouring our hearts out to the Lord. Thursday morning was a time of corporate prayer, like none I have ever experienced in my life; an entire auditorium of people praying as one, moving under the direction of the Spirit of God. It was such a joy and privilege to witness this. Looking back, it is clear that the Lord was slowly "bringing up the lights," so to speak. He was giving us what we could handle each day, and as we sought Him, He kept giving us more. Isn't that just like our wonderful, generous God!
When I think of the North American Week of Prayer, I am so thankful that our great God ordained the week, that He is empowering the week, and that He is directing the week. I can hardly fathom the great privilege that is ours of coming into His presence as sons, seeking His face, and then watching His sovereign hand reach down out of the heavens to do things that only He can do!
Lord, help us on. There is no place on earth like Christ's School of Prayer. No place I'd rather be. I can't wait to see what He teaches us next.
All believers are invited to gather together to pray to God and seek His blessings for North America. Many Kansas City Area believers will seek to make housing accommodations available for attendees (register early, housing is limited). For further information please visit www.naweekofprayer.com.