"And I sought for a man among them, that should make up the hedge, and stand in the gap before me for the land…" – Ezekiel 22:30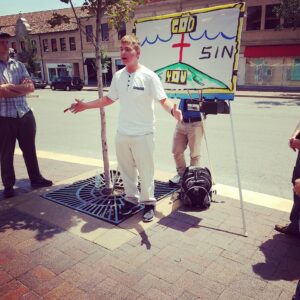 He intended to kill himself. As he walked towards the East River in lower Manhattan, he came upon something unexpected – a group of people standing on the sidewalk listening to a man speaking and sketching. Overcome with curiosity, he stopped, listened and heard the words of life – the gospel. Those words made sense to him. He wanted to kill himself, but he didn't. Those words gave him hope, and as he trusted the Lord Jesus Christ as his personal Savior, the thoughts of suicide left him. He made the most important decision he will ever make – a decision for eternity! He now had hope!
The world's greatest need is to know the Lord Jesus Christ as Savior. Who will tell them? Who will reach them? How will we reach them? How to reach people where they work, live and play is key. Most will never set foot in a church.
We need open-air evangelism. We need people who will stand in the gap to meet people where they are. "Standing in the gap!" is not only a motto, it is an action in which a trained Christian skillfully conveys the message of eternal life to individuals who desperately need it.
WHO WE ARE
Sensing the need for more evangelists and more evangelistic training for Christians, The Ezekiel Project (TEP) began in 1992 with a vision to train individuals who desire to "stand in the gap". The primary desire of The Ezekiel Project is to put the "go" back into the gospel by training individuals on how to reach these precious people where they are. Through the years, our ministry has endeavored to prepare Christians to do the work of an evangelist through two primary ministries: our Evangelism Training Seminars and The Ezekiel Project School of Evangelism (TEPSE).
OUR MINISTRIES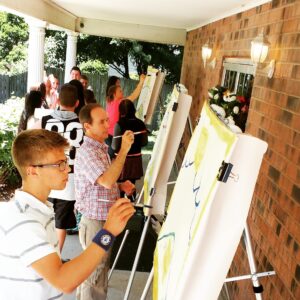 The Evangelism Training Seminars – "One week for life!"
These training seminars are designed to help disciple those burdened in evangelism. Each seminar includes classroom instruction, workshops and doing open air evangelism.
The Basic Training Seminar (BTS) offers training in the how and why of evangelism. Participants are taught valuable techniques of presenting the gospel to unbelievers using a paint board and a rope trick. Techniques for personal evangelism are also highlighted as part of this training.
The Advanced Training Seminar (ATS) builds on the foundation of the Basic Training Seminar and focuses on the how and why of reaching children. Participants are given tools which will help equip and enhance a ministry in Sunday School, Vacation Bible School, kid's clubs and camp work.
Our seminars will be conducted in June and July this year at these sites: Shawnee Bible Chapel, Kansas City, KS and Grace Chapel, Tenafly, NJ (NYC area). The exact dates will be posted on our website.
The Ezekiel Project School of Evangelism (TEPSE) – "In the heart and on the street, where knowledge and experience meet!"
TEPSE began in 1993 as a pilot program with a vision to provide foundational Bible teaching and practical evangelism experiences in every person that comes through our school. In the fall of 1997, the pilot program gave way to the first full time class. The TEPSE program runs for nine months and classes are scheduled on Monday, Tuesday and Thursday. On Wednesdays, students engage in practical evangelism experiences at nearby college campuses. The following courses are the heart of our program: Bible Survey, Bibliology, Hermeneutics, Systematic Theology, Personal Evangelism, Apologetics, Cults and World Religions, Discipleship and Homiletics. Since our inception, we have had the privilege to graduate 65 individuals.
OUR EXPANSION
A New Home
From the beginning, The Ezekiel Project has operated on the property of Chris and Barb Schroeder, the founders of TEP. Last year, through a series of God-ordered events, TEP was able to purchase its own building. TEP had been operating in a 2,400 square foot building in a small rural area. The new facility, an old church building, measures 9,000 square feet and is in a suburb. Currently, we are in the process of renovating this building to suit our purposes. The purposed plan for the building includes an administrative office, two classrooms, a library, a teachers' office, and a fellowship hall with a kitchen. Progress is being made. The main office is nearly finished. One classroom and the teachers' office are being constructed. The library has been painted, carpeted, bookshelves set up and books shelved. Believers from various areas have given of their time and resources to help us move along in this huge project. We are excited to see the Lord's provision through it all.
A New Program
In the midst of renovation, we are also revamping our T1 curriculum and creating a new second year program (T2). The T2 program is being designed for graduates of our T1 program. The program will build upon principles and knowledge gained in T1 through courses such as Bible Introduction, Biblical Geography, the books of Poetry and Wisdom, the Gospel of John, Hermeneutics 2, Advanced Expository Preaching, Introduction to Missions and the Missionary Life, and Church History. Mike Attwood and Steve Price will join our teaching team as adjunct instructors. Each of them will be onsite for one week of intensive class sessions. Mike will cover the Epistle to the Romans and Steve will handle the topic of shepherding.
We are excited to see the Lord working in and through us! We are grateful for the assistance and support of other believers and assemblies throughout the United States and the Bahamas! To continue, we need you! Pray for us, minister with us, be a part of our life changing ministry!
Please join us by praying for these specific requests:
for our staff – that the Lord would give us the spiritual direction, physical strength and health as we minister for the Lord.
for the progress of the building renovation – that the Lord would provide everything needed!
for the development of our new T2 program.
for our upcoming seminars – that the Lord would bring people to attend.
for our TEPSE program – that the Lord would direct students to attend.
You can follow us on our Facebook page and our website. You can contact us: tep@tepse.org, P.O. Box 393 Richmond, MI 48062, or call us at (586) 784-4143.